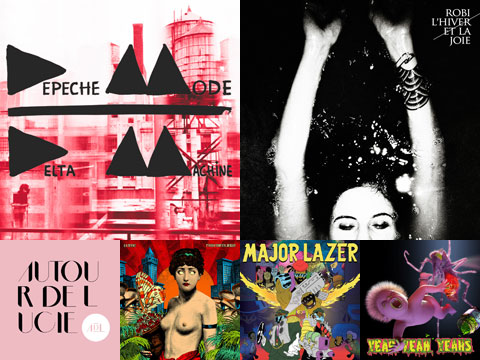 Ce mois-ci : retours attendus, pochettes immondes et french touch.
En boucle
Le retour réussi de Depeche Mode (Royaume-Uni – électro toujours innovante) avec Delta Machine. Derrière l'irrésistible single Soothe My Soul se cachent d'autres bonnes chansons.
C'est aussi le mois des pochettes bizarres, pour ne pas dire immondes, avec Mosquito, le nouveau Yeah Yeah Yeahs (Etats-Unis – rock'n'roll gospel) et le premier album attendu de La Femme (France – surf).
Robi (France – pop noire) est la découverte d'avril : une vraie claque pop et rock, sombre et sobre, dans la veine de Lescop.
Encore un groupe dont je suis ravie d'avoir des nouvelles : Autour de Lucie (France – pop lumineuse en français) qui revient avec un EP.
Tomorrow's World (France/Royaume-Uni – électro aérienne) : le projet de Jean-Benoît Dunckel (Air) et de Lou Hayter (New Young Pony Club).
Comment faire l'impasse sur Get Lucky ? Daft Punk (France – la french touch, la vraie) a su créer l'événement avec une chanson certes sympathique, mais sans plus, déjà décrétée chanson de l'été.
Je vous en ai parlé récemment
Hôtel Morphée (Canada – rock glauque en français)
The Happy (Belgique – pop eighties joyeuse)
Thus:Owls (Canada/Suède – électro pop)
Phosphorescent (Etats-Unis – pop parfaite)
Et aussi
Aufgang (Luxembourg/France/Liban – classique électro), Major Lazer (Etats-Unis – dancehall), Rachid Taha (Algérie/France – rock'n'raï), Hanni El Khatib (Etats-Unis – rock blues jackwhitien), Everything Everything (Royaume-Uni – pop rock), Omer Klein (Israël – jazz), Lisa LeBlanc (Canada – chanson québeco-réaliste), Bonobo (Royaume-Uni – électro planante), Black Rebel Motorcycle Club (Etats-Unis – whatever happened to my rock'n'roll).
La playlist
Comme d'habitude, des extraits ci-dessous et la playlist dans son intégralité pour les abonnés Qobuz dans le player et dans le desktop
A écouter aussi