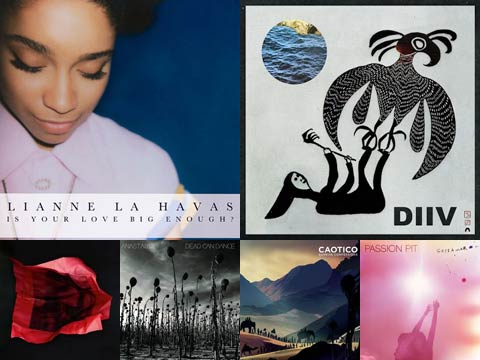 Il n'y a pas pléthore de nouveautés en août, mais tout de même assez pour remplir une playlist.
Les meilleurs albums d'août
La chanson de l'été, c'est toujours Is Your Love Strong Enough de Lianne La Havas (Royaume-Uni – soul folk), dont la douce voix vous aidera à supporter la canicule.
L'album de pop rêveuse de DIIV (Etats-Unis – shoegaze).
Red Night de The Hundred In The Hands (Etats-Unis – pop capiteuse), une chaude recommandation de mon disquaire.

Parmi les nouveautés
Le nouvel album de Passion Pit (Royaume-Uni – pop sautillante).
L'électro pop sexy de Caotico (Suède – électro pop).
Un avant goût de Coexist, le 2e album de The XX (Royaume-Uni – pop minimaliste), annoncé pour le 10 septembre.
Les chansons d'Antony and The Johnsons (Etats-Unis – pop queer symphonique) réenregistrées avec un orchestre de chambre.
Et aussi Dirty Projectors (Etats-Unis – indie pop explosive), Lower Dens (Etats-Unis – freak pop), la 1re chanson en français de dEus (Belgique – rock belge). Et, parce que vous avez été sages, une sonate de Bach à la flûte à bec et au clavecin.
Du rock, du vrai
Un nouvel album de Dead Can Dance (Royaume-Uni/Australie – rock majestueux), c'est un événement. C'est beau, grandieuse et prenant comme une musique de film et Anastasis est un album plutôt lumineux pour un groupe de darkwave.
The Darkness (Royaume-Uni – hard rock façon glam seventies), les mêmes qui nous avaient fait danser sur I Believe in a Thing Called Love, reviennent avec un 3e album, Hot Cakes. Bon appétit !
C'est la belle pochette de l'album Yellow & Green qui m'a poussée à écouter Baroness (Etats-Unis – metal stoner). Et j'ai apprécié leurs chansons mélodiques et énergiques. Baroness a malheureusement fait l'actualité ces derniers jours, car ils ont eu un grave accident de bus le 15 août lors de leur tournée au Royaume-Uni. Aux dernières nouvelles, 3 musiciens étaient encore à l'hôpital pour soigner leurs fractures.
La playlist
La playlist dans le player de Qobuz.
A écouter aussi