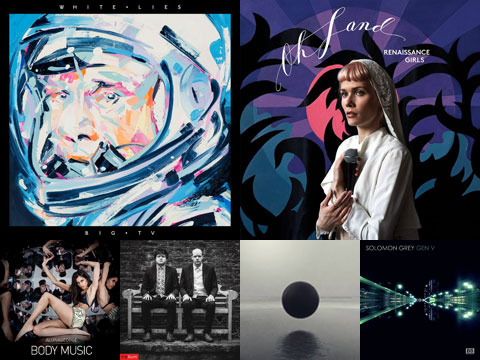 En boucle ce mois-ci
White Lies (Royaume-Uni – gloom rock) : un nouvel album et un single réjouissant, There Goes Our Love Again.
Oh Land (Danemark – électro pop) : retour de la chanteuse Nanna Øland Fabricius avec un single bien ciselé.
AlunaGeorge (Royaume-Uni – r'n'b et électro) : ce duo au son très 2010s', entre mainstream et expérimental, a toutes les qualités pour faire un carton.
En vrac
Decibelles (France – pop post-punk) : un trio féminin jeune mais qui a déjà suffisamment baroudé pour passer à la pop.
Braids (Canada – pop psyché et électro)
Solomon Grey (Royaume-Uni/Australie – électro mélancolique)
Pet Shop Boys (Royaume-Uni – électro pop) toujours au rendez-vous avec un album sans surprise, mais agréable. Et la mauvaise fois en amour est une source de comique inépuisable.
Jef Barbara (France – chanson androgyne) : la suite des aventures du protégé de Burgalat, in English cette fois-ci.
June & Lula (France – folk) duo féminin et folk.
Keziah Jones (Nigéria – soul funk) : un retour qui fera plaisir à quelques un(e)s, je le sais !
Brigitte Fontaine (France – chanson folle) : des textes toujours plus cruels et crus avec des arrangements rock.
The Electric Soft Parade (Royaume-Uni – indie pop) : un air de famille avec Fountains of Wayne bien plaisant.
Radio Radio (Canada – hip hop laid back) : du rap en chiac, langue vernaculaire franglaise, ça fait bizarre, mais c'est cool.
Angus Stone (Australie – folk) : un peu de douceur.
Satellite Jockey (France – shoegaze) : un petit air de My Bloody Valentine, mais non, ce sont des Brestois.
La playlist
La playlist dans le player de Qobuz.
A écouter aussi