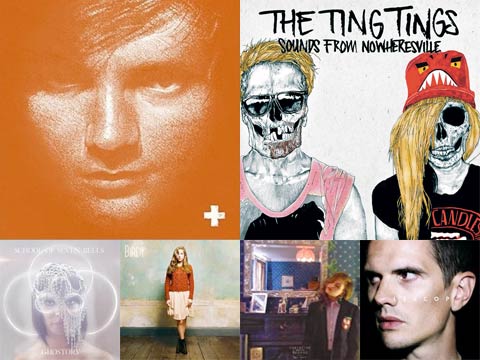 Dans les nouveautés de mars
Si ces noms ne te disent rien, il faut sortir !
Ed Sheeran (British ginger head du moment), Pony Pony Run Run (french touch 2010s), WZRD (Kid Cudi fait du rock), Emeli Sande (fantôme de Unfinished Sympathy de Massive Attack), Katie Melua (sirène jazz).
Les nouveautés que tu dois bien aimer en disant tout de même « c'était mieux avant »
The Ting Tings (pop – c'était mieux quand ils osaient faire des tubes), School of Seven Bells (dream pop – c'était mieux quand ils étaient trois).
Et aussi
Soko (pop with frenchy accent – le premier album que l'on attendait plus), Miike Snow (electrotornade – nouvel album, yeah!), Band Of Skulls (rock), Rover (rock folk dépressif français), Alan Corbel (rock folk dépressif français), Hard-Fi (rock), The Jezabels (pop rock – Texas fait de la new wave).
Dans les sorties récentes
Beaucoup de reprises
Birdy reprend Phoenix et Cherry Ghost (pop crève-cœur), Mr. Little Jeans reprend Arcade Fire, Rodolphe Burger consacre un album entier au Velvet Underground, The Young Professionals transcende Ottawan.
La programmation du Festival Les Femmes s'en mêlent
Beth Jeans Houghton (folk lyrique), Christine & The Queens (électro pop – j'étais au concert au Point FMR hier, c'était top !), Dum Dum Girls (pop), Light Asylum (électro new wave), Still Corners (dream pop), Kap Bambino (électro bordelaise énervée), Dillon (pop), Le Volume Courbe (pop folk).
Des chansons qui trainent
Nouvelles têtes ou vieilles connaissances.
Lescop (petite obsession pop du moment), Howling Bells, Faithless (euro dance qui ne fout pas la honte), Louis XIV (rock sexy des 2000s), Ornette (pop fofolle), Grimes (electro pop).
Des questions métaphysiques
De l'humain, du robot, de l'animal, de l'extra-terrestre, du « qui suis-je ? », du « quel âge j'ai au fait ? » et « c'est quand l'été ? » avec les usuals suspects : Robyn, Katerine, Goldfrapp, Kit, Miike Snow et plein d'autres.
La playlist !
Avec le widget, tu peux écouter un extrait ; si tu es abonné Qobuz l'intégralité des chansons est dispo dans le player de Qobuz.
A écouter aussi