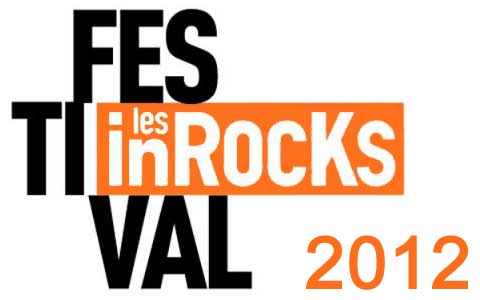 Lundi 5 novembre 2012, j'étais au Casino de Paris pour voir Hot Chip et Lescop en concert dans le cadre du festival des Inrocks 2012.
Juveniles et Kindness
Ca n'a pas été un grand succès avec Juveniles et Kindness. En arrivant, j'ai pu croiser Juvelines devant la salle alors qu'ils rangeaient leur matériel… C'est dommage, car l'électro pop de ses jeunes Français avait l'air sympathique. Il va falloir apprendre à partir plus tôt du boulot.
J'avais un apriori négatif sur Kindness que les quelques morceaux entendus n'ont pas réussi à effacer. Je me pencherai sur son cas plus tard.
Lescop
Ca fait maintenant quelques mois que je suis Lescop de près et j'étais contente de le voir enfin sur scène. Alors, là encore, l'analogie avec Daho s'impose, car Lescop est pour l'instant un peu léger vocalement, mais compense avec une belle présence et ses superbes chansons. Courage : après des années de travail, Daho a une voix dense et bien posée et se permet en live des mélodies complexes.
Lescop a interprété la quasi intégralité de son album, à l'exception de Le Mal mon ange et Slow disco. Il a été rejoint sur scène pour Tokyo la nuit par Adrien Virot, auteur du texte de cette chanson. Les ambiances électro de Lescop ont bien fonctionné lors de ce concert, en particulier sur La Forêt, La Nuit américaine et Le Vent, qui ont entrainé la foule dans un sautillement généralisé.
Hot Chip
Ce n'est pas pour rien que Hot Chip était la tête d'affiche : ils ont vraiment assuré ! Ils étaient au moins 7 sur scène (je ne garantis pas le nombre exact, parce que j'ai toujours un problème de visibilité en concert… 1,60 m, tout ça). Mention spéciale pour la présence d'une batteuse, Sarah Jones de New Young Pony Club.
Le leader Alexis Taylor a une voix incroyable, assez aigüe, soupe, chaleureuse et emplie d'émotions, qui se marie bien avec celle bien plus grave de Joe Goddard (de The 2 Bears). D'une manière générale, les chansons de Hot Chip donnent un côté humain et organique à un son électro.
Les Hot Chip ont joué une grande partie de In Our Heads dont How Do You Do?, Night And Day et Flutes, tout en alternant avec d'anciennes chansons : One Life Stand, Over and Over et Ready For The Floor. Tiens, c'est vrai que c'est d'eux Ready For The Floor. Je me souvenais surtout de la version de Lissy Trullie, que j'avais vue en concert… lors du festival des Inrocks de 2009.