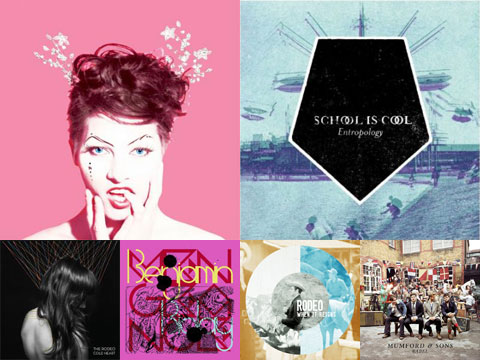 Les découvertes du mois
Novembre, ce n'est pas le mois des early adopters. C'est le moment de se rattraper et d'écouter les sorties de la rentrée (et d'avant) que l'on aurait loupées.
La propagande des Chaussures de Myra Ellen ayant fait son effet, je me suis penchée sur le cas de l'excentrique Amanda Palmer (Etats-Unis – pop rock festif et sexy) et son excellent album Theater Is Evil, et me voilà conquise.
Ce n'est pas parce que toute la presse dit du bien de School is Cool (Belgique – pop rock intello et tribal) qu'il faut bouder leur album, car Entropology est une merveille.
Le groupe Mumford & Sons (Royaume-Uni – folk poignante) vend des albums par milliers, il n'est pas trop tard pour se laisser emporter par l'évidence des tubes du combo folk.
Doublé gagnant avec les EP de Rodeo (Australie – électro pop) et de The Rodéo (France – folk pop).
Les têtes connues françaises
Après une première écoute rapide, Il semble être à la hauteur de M et Mojo donne vraiment la pêche. De toute façon, ce gars est tellement plein d'énergie et de sympathie, que je n'oserai jamais en dire du mal.
Le premier single Aime Mon Amour ne m'a pas emballé, mais le reste de Vengeance est dense et sombre comme un bon album de Benjamin Biolay.
Un peu d'électro française avec Vitalic et Anything Maria.
La sélection du festival des Inrocks
Ce mois-ci, j'ai vu en concert : Hot Chip (Royaume-Uni – électro pop), Lescop (France – pop noire), The Vaccines (Royaume-Uni – rock indé), Electric Guest (Etats-Unis – électro pop), Poliça (Etats-Unis – pop indé autotunée).
Et aussi
Lissy Trullie (Etats-Unis – rock), Me and My Drummer (Allemagne – pop minimaliste à piano et batterie), MS MR, Haim (Etats-Unis – pop), Alex Hepburn (Royaume-Uni – Soul rock), Tegan and Sara (Canada – électro pop), 2080 (France – électro rétro), Marie-Pierre Arthur (Canada – chanson).
La playlist
La playlist dans le player de Qobuz.
A écouter aussi