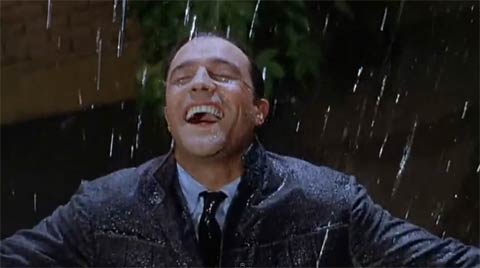 Que faire quand le ciel est gris comme aujourd'hui ? Ecouter quelques chansons qui font les louanges de la pluie, du vent, des bottes et du mauvais temps.
Garbage – Only Happy When It Rains (1995)
First things first, le tube de Garbage.
I'm only happy when it rains
I'm only happy when it's complicated
And though I know you can't appreciate it
I'm only happy when it rains
Bérurier Noir – La Pluie (2003)
Cette chanson est extraite du dernier album en date de Bérurier Noir, Invisible. Elle n'est pas forcément très joyeuse, mais elle donne envie de chanter « la pluie, yeah, yeah ».
La pluie lave tout
Même les infortunes
La pluie nettoie tout
Les amours déçus
Elle tombe en rideau
A la fin de l'été
Sur les cœurs les plus chauds
pour les consoler
Phil Collins – I Wish It Would Rain Down (1990)
Ce titre est de l'album de 1989 … But Seriously. La vidéo qui l'accompagne évoque
la carrière d'un « ancien batteur » qui se lance dans le cinéma. Elle comprend de nombreux invités dont Eric Clapton.
You know I never meant to see you again
and I only passed by as a friend
All this time I stayed out of sight
I started wondering why
Now I wish it would rain down on me
The Jesus And Mary Chain – Happy When It Rains (1987)
Une chanson douce amère comme un jour de pluie.
You were my sunny day rain
You were the clouds in the sky
You were the darkest sky
But your lips spoke gold and honey
That's why I'm happy when it rains
I'm happy when it pours
Gene Kelly – Singin' In The Rain (1952)
Difficile de faire sans Chantons sous la pluie.
I'm singing in the rain
Just singing in the rain
What a glorious feelin'
I'm happy again
Et aussi
En bonus, la sélection de Street Press avec quelques pépites.
Des centaines de chansons en anglais sur la pluie chez A la carte, dont de nombreux airs traditionnels.